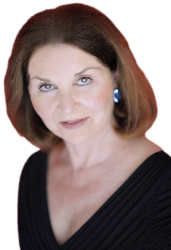 I started singing professionally at the age of 17 with a "show group" called Chang Lee and the Zaniacs. Before this I sang at teen dances and teen niteclubs—once with Little Anthony & the Imperials. I joined Jerry Mitchell and the Impacts: working and learning from many jazz greats; including Roland Hanna, Gus Johnson, Danny Gibson and my friend, Miss Rhapsody. Next came the Joe Zarr trio with the late Al Ross on organ and Warren Battiste on guitar. Also during this time I worked with two other groups: The Traces and the Gary Kay Trio.
At Kean University I was the featured vocalist with the Big Band Workshop, a member of the Woodwind Choir and concert band. I recorded on an album entitled Danny & Friends and became the vocalist with the Bob Ackerman Group—through whom I met my late husband, Gerry LaFurn. Gerry played lead trumpet with Stan Kenton, Buddy Rich, Charlie Barnet & Jimmy Dorsey, as well as being conductor/arranger for Mimi Hines and Don Costa's chief orchestrator. He is most remembered for the recording made when he co-led a big band with Charlie Persip called Superband. Of course, I learned a great deal about music and life from Gerry. Formally, I was a Flute major at Kean College, vocalist and flutest with the jazz band, and studied privately both flute and voice.
I "retired" from performing to raise my special daughter and taught in Jersey City's public schools for many years. Now, I've retired from teaching and am back to my first love—music performance. In my music you will hear the passion and excitement of a young person together with the experience of a life lived. ENJOY!